Skip Hire Dublin Made Simple
Skip Hire Dublin
Local Skip Hire Dublin has been delivering first-class skip hire services all over Dublin for more than 10 years. Our reputation for reliability was earned through consistently providing our customers with sound advice, responsible waste disposal, and prompt skip drop-off and pick-up.
Skip Hire Dublin Conveniently Located for All Dublin Customers
Our Skip Hire head office is based in Dublin. We chose the name Local Skips because we are perfectly placed to provide fast skip hire service to all areas in Dublin. No matter where you're located, we can reach you quickly whenever you need a skip.
Trusted by Commercial and Domestic Clients for Skip Hire
We have the capacity to handle both domestic and commercial projects of all sizes. Our clients come from Roofers & Gutters & Electricians to Tow Truck services, both private and commercial, trust us to handle their waste removal with skill and responsibility.
Choose a Skip to Hire
We have a full range of skips that can handle any domestic or commercial project. Here is a brief overview of our most popular skip sizes and models.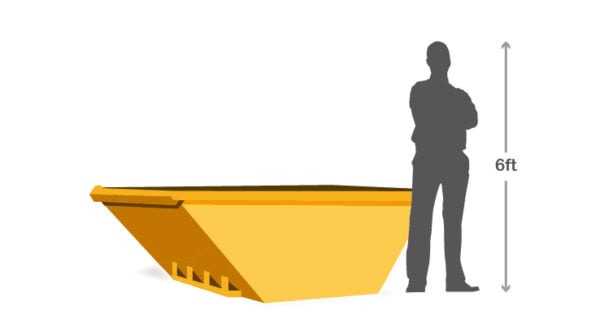 Mini Skip
(2 cubic yards)
2.5 foot high x 4 foot long x 6 foot wide
This compact skip is perfect for smaller projects. We recommend it for anyone de-cluttering their home, tidying up a garden, or clearing out a garage. It will fit in your garden or driveway without obstructing your way in and out. This versatile skip can hold as many as 20 black rubbish sacks.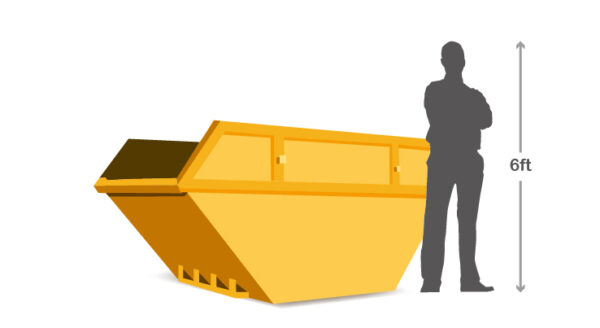 Midi Skip
(4 cubic yards)
3 foot high x 8 foot long x 5 foot wide
Our Midi Skips are mostly used for home, garage, or garden clear-outs. They will fit comfortably in most driveways or gardens. Each Midi Skip can hold up between 30 and 40 refuse sacks.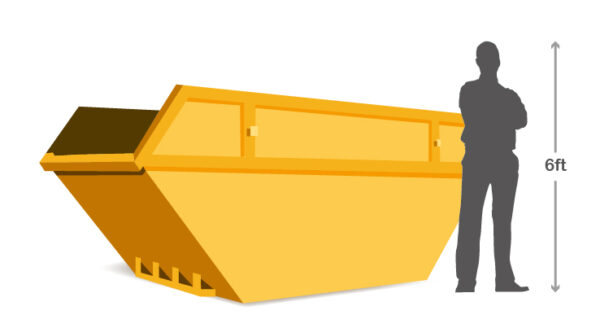 Standard Skip
(6 cubic yards)
3.5 foot high x 11 foot long x 5.5 foot wide
This is our most popular skip size, ideal for when you're moving home or office. It is often used by customers (both private and commercial) who are renovating a house or business premises. You will fit between 60 – 80 black rubbish bags of waste (depending on capacity) in this skip.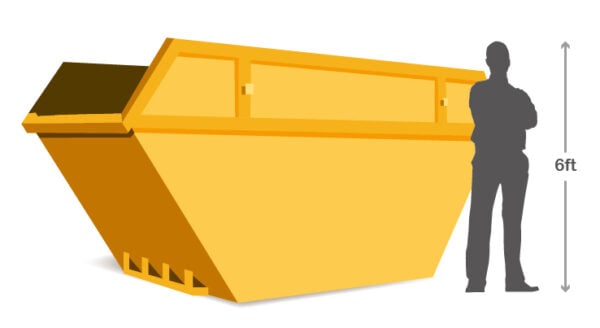 Maxi Skip
(14 cubic yards)
8 foot high x 11 foot long x 5.5 foot wide
This deep skip is mostly used for large construction projects. It has the capacity to handle bulky builders' waste, including rubble and soil.
Experienced Skip Team
Each member of our skip hire team is experienced in delivering high-quality skip hire and waste management services.
We are fully insured and licensed to provide skip hire and waste removal services.
Skip Quality & Value
Our goal is always to provide top service and excellent value to our customers. No matter how big or small your project, we will always give it the attention it deserves.
Our rates are consistently competitive, always in-line with, and often beating the lowest prices offered by other providers. If you have a job with complex requirements, we'll advise on the right combination of services, and do our very best to keep within your budget.

Get In Touch
If you would like advice on the right skip hire solution for your project, or a free quote for any work you're planning, we will be happy to help.
You can speak with our customer care team by phoning 087 4000 600, or use the form located on this page to contact us online.
Need Help Hiring a Skip?
Can't see what you need, or unsure of the right skip for your project?
We will be happy to give you advice and guidelines on choosing the right skip for your needs.
We also provide custom skip solutions, so if you have a job with complex requirements, we'll be able to help.
Skip Hire Dublin is your first call when you need a skip anywhere in anywhere in Dublin. We supply skips of all sizes and capacities to our commercial and domestic clients in Dublin.
We are known for our fast delivery, and reliable collection, exactly when you need it. When you contact us, let us know what kind of job you're carrying out and what kind of waste you'll be getting rid of. We'll advise you on the best skip for your project, and quote you our most competitive price.
Domestic Skips Dublin
We have a full selection of skips to suit your requirements including a mini (2 cubic yards), midi (4 cubic yards), standard (6 cubic yards), and a maxi (14 cubic yards). Each skip suits a different style of project, and we can advise on what's right for your needs when you contact us.
Commercial Skips Dublin
Our commercial work in Tallaght ranges from skip hire for construction companies to regular waste management for retail and hospitality clients. We can handle projects of any size and type.
We Accept Waste
Home / domestic waste (food, clothes, furniture)
Green waste (garden greenery, recycling)
Electrical waste (WEEE)
Construction waste (soil, rubble, building materials)
Biohazardous waste (chemicals, medical supplies)
Confidential waste (legal or financial documentation)
Hire your Skip for Dublin Now
Dublin is one of our most popular locations for skip hire. If you're ready to book, we recommend phoning us on 087 4000 600 to request your delivery date.
If you have a question, we'll be happy to help. You can contact us online using the form located on this page.